| | | |
| --- | --- | --- |
| Forum | | |

The forum is a similar place of social interactivity like the chat, but messages, or posts, can consist of several lines and will stay there for a long time. This enables thorough discussions of any topic you feel the need to debate.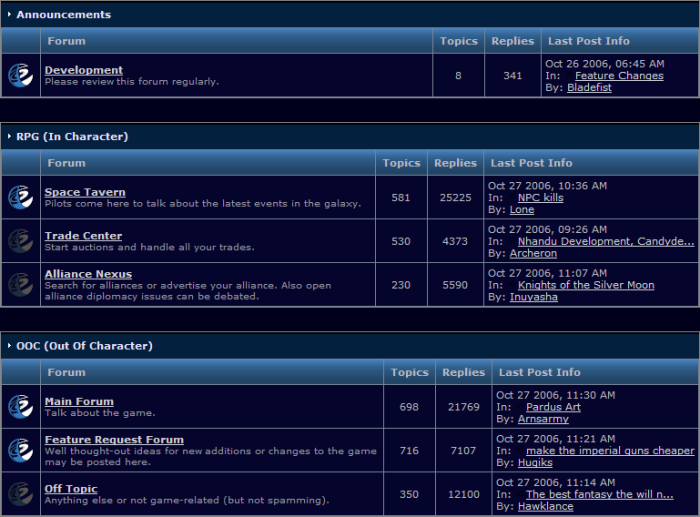 There are three categories, each one has subforums:
Announcements - Development
Here the administrators will post all important updates to the game or any of its contents. Please have a look at this place regularly, as for example game rule or gameplay changes are announced here.
This is a read-only forum for players.



RPG - Space Tavern
Pilots come here to talk about the latest events in the galaxy.


RPG - Trade Center
Start auctions and handle all your trades.


RPG - Alliance Nexus
Search for alliances or advertise your alliance. Also open alliance diplomacy issues can be debated here.



OOC - Main Forum
Talk about the game, out of character.


OOC - Feature Request Forum
Well thought-out ideas for new additions or changes to the game may be posted here. This subforum is regularly checked by the game developers.


OOC - Off Topic
Anything else or not game-related (but not spamming).
Your ship's image will be used as avatar in the forum, unless you deactivate the
Show ship information in the forum
setting in the options screen.
[MECH:Options]
Threads that have been inactive for six months will be archieved.
If someone violates
game rules
in a forum post, you may report it by clicking the report button in the post's header:

---